Ninth Sunday after Pentecost, Year B
Pastor Kate Costa
Imagine with me back to Detroit, one Saturday ago.  Our nine youth, plus two more from Our Savior in Warrenton had just gotten back from a hot afternoon cleaning up the streets around Focus: HOPE.  This project is seeking to revitalize 100 square blocks, providing a safe residential area where all can receive education and prosper- from HeadStart programs for toddlers to GED and technology programs for adults.  Our youth were out in the sun in 95 degree heat, rolling away tires, taking down weeds the size of trees and trees the size of weeds.  They were getting their hands dirty digging up broken bottles and carting away mini mountains of trash.  In a few short hours, together with 30,000 other youth, they made a huge difference for the city of Detroit.
In fact, together, our denomination:
Cleared 3,200 vacant lots of debris
Boarded up 319 vacant homes
Installed 36 urban gardens
Painted 1847 mural boards painted
Built 99 picnic tables
Collected 1 million diapers
Distributed 1425 backpacks
Affected 600 neighborhoods
And raised $402,000 so far for the Walk for Water project, which will be matched up to $500,000
And that's just what they have been able to count!  It's hard to keep up with the statistics when you have 10,000 congregations across the US contributing to the efforts.  And you can't count positive spirit, the gospel shared in small ways with strangers on the street, or the number of high fives given by our youth to unexpecting citizens on the streets of the Motor City.
But the service aspect is just one small piece of the National Youth Gathering.  Remember back with me to our teens, hot, sticky and joyous after their day on the streets.  And now the time in the evening had come when we got to grab a bite to eat for dinner and head to the nice airconditioned Ford Field to listen to Christian rock bands and rappers, missionaries and beat poets, civil rights activists, as well as to dance and clap and sing until the power of 30,000 worshippers made us all giddy.
Except, it turns out that grabbing a quick bite to eat on the streets of Detroit with 30,000 of your closest friends was not as easy as it sounds.  In fact, when you add to it that the downtown business district practically shuts down on the weekend, it was darn near impossible.  I found myself wondering with the disciples, "Where are we to find bread for all these people to eat?"
Jimmy John's subs was closed on the weekends.  So was the first Thai place we passed and the hotdog vendor on the street.  The funky looking beach bar, complete with imported sand, didn't start selling tacos for another half hour.  The quiet and frankly a bit too elegant for our work clothes bistro was an option, but hamburgers started at $16 apiece, more if you wanted fries and a drink.  The Hard Rock had a 2 hour wait.  Finally, at our wits end, we found two places side by side- a second Thai place and a Mediterranean sandwich shop.  We fanned out and fended for ourselves, finding seats on the street planters and around the sidewalk.
And let me tell you, it was the most delicious food I had tasted in a while.  Hayley raved about the chicken ceasar wrap, despite the fact that she had no idea what it was for the first 8 bites.  We sat and ate in blissful glory, not concerned at all about our lack of table or the bright sun still beating down from above.  None of it mattered.  All that mattered was that in this crowd of people, we had found bread to buy, and it was divine.
Now imagine back with me to the first century, to another crowd of hungry mouths.  They had walked and walked in the hot sun to come to see an amazing preacher, teacher and healer.  They had tracked down his itinerary, found him even when he wasn't sure he wanted to be found.  They hung on his every word, not wanting to miss a single beat.  They recognized in this man one who would inspire them to amazing lengths, caring for those who previously had been strangers, now sisters, brothers, friends.
And yet, as they day drew long, even these rapt travelers became hungry.  Out in the desert, there was no beach bar or Hard Rock Café.  There was no Mediterranean sandwich shop or Jimmy Johns or Thai place with sweet lemons to squeeze over the clear noodles.  There were only small towns, bumps in the road, really, with no certainty of enough bread to eat even if you could get there with enough money for the crowd.
And yet, Jesus turns to the disciples and says, "You give them something to eat."  I can only imagine how helpless the disiples felt in that moment.  We have no food.  We don't even have enough for ourselves.  Like sheep without a shepherd the disciples looked that the bedraggled crowd and I can only imagine the pity, the sympathy, the compassion they felt for them.  But what could they do?  Fear seized their hearts.  They had nothing to share.
I know the feeling, don't you?  In this week in Detroit, we accomplished amazing things together through the grace of God.  And yet, even in the face of that accomplishment we saw the huge amount of need that is still left in that city.  Beyond those wall, there are dozens and hundreds of cities with just as many poor, just as many homeless, just as many mouths longing for bread.  Even in the week since I've been back, I've faced requests in our town that I could not meet- a woman facing foreclosure, a man offering a few coins as offering to the church when I know he still has needs of his own to meet, countless names on my prayer list that still hunger and thirst for healing.  Fear grips my heart.
And yet, we do have five loaves and two fish.  We do have more than enough lunch for our own needs, and just enough left to turn and share with one other.  And remarkably, when the bread is blessed and broken, turned over to Christ and returned to us, that is more than enough.  We may not be able to meet the needs of all that we see, but we can feed a neighbor.  In that radical sharing, in that remarkable hospitality, in the presence of Christ, it is somehow majestically and mysteriously multiplied.
When I think back to how amazing that street food tasted in the mouths of hungry teens who had done a hard day's work for another, I can only imagine how amazing the bread and the fish tasted in the mouths of those pilgrims who has sat all day listening to the preacher share God's wisdom and grace.
Today, we come to the table for a foretaste of that very same meal.  As Jesus gave thanks, broke, and gave the fish and loaves to his disciples to share, he also blessed, broke and gave the bread to them again at the last supper.  That bread is passed down to us through the generations, so that we too come to the hungry feast.  We too receive the bread of peace, that we may go out and be bread for the world, sharing what we have with all we meet.  We too become the body of Christ for the world.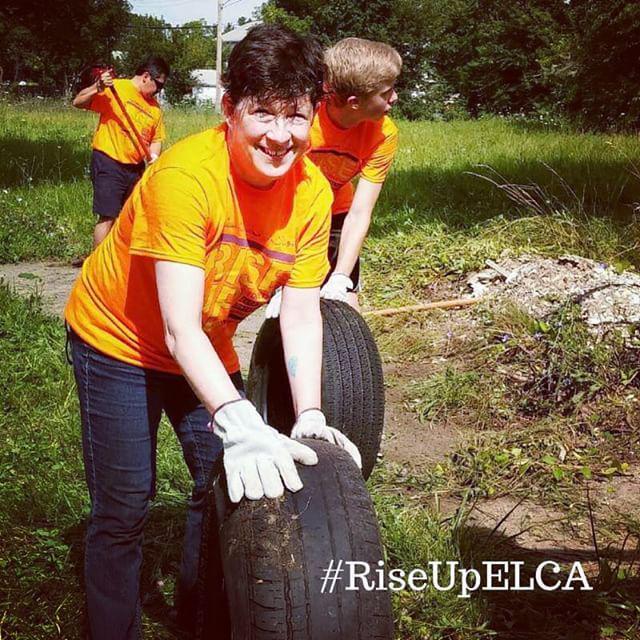 Bishop Elizabeth Eaton's blessed us at the end of the Gathering Sunday, and now, I bless you to go out as as the body of Christ:
People of God, you are called to follow Jesus.  Whatever you do, bear burdens, build bridges, break chains, and bring hope.  You do because Jesus did it for you.  And now may God – Father, Son, and Holy Spirit – bless you now and forever. Amen + Amen.